19-base Modified Harmonic Fragment
19-37, replacing 31, 33, & 37, with 45, 51, & 53
Scale
Degree
Harmonic
Ratio
Quotient
Cents
Gap
in
Cents
1
19
1:1
1
0.00
94
2
20
20:19
1.052631579
88.80
89
3
21
21:19
1.105263158
173.27
84
4
22
22:19
1.157894737
253.80
81
5
45
45:38
1.184210526
292.71
39
6
23
23:19
1.210526316
330.76
38
7
24
24:19
1.263157895
404.44
74
8
25
25:19
1.315789474
475.11
71
9
51
51:38
1.342105263
509.40
34
10
26
26:19
1.368421053
543.01
34
11
53
53:38
1.394736842
575.99
33
12
27
27:19
1.421052632
608.35
32
13
28
28:19
1.473684211
671.31
63
14
29
29:19
1.526315789
732.06
61
15
30
30:19
1.578947368
790.76
59
16
32
32:19
1.684210526
902.49
112
17
34
34:19
1.789473684
1007.44
105
18
35
35:19
1.842105263
1057.63
50
19
36
36:19
1.894736842
1106.40
49
crawlspace.mp3 - length 3:16, size: 3 MB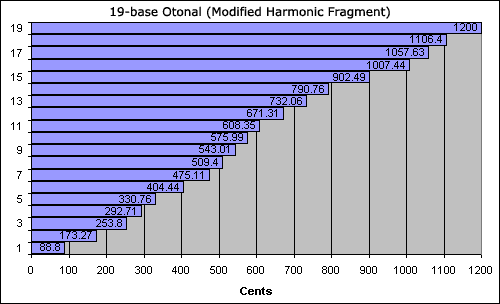 The plain 19-37 fragment contained two primes I didn't need for Crawlspace: 31 & 37. For some reason, I didn't seem to need 33, either, even though its the 3:2 of 22, and 22 occurs frequently enough. I did need the 3:2s of 30 & 34, so I added 45 & 51. The ostinato pattern required 53 in order to feel right.
There are 10 primes represented. The largest step size is 112 cents, and the smallest is 32. All step sizes are unique.
Crawlspace was written as creepy background music for custom levels of the classic computer video game, DooM.
---
Copyright © 1997-2005 by David J. Finnamore
All rights reserved.
tuning@elvenminstrel.com